Skip to Content
"I have loved cars my whole life and wanted to share my passion for special automobiles with our guests to enjoy."
- Charles Mallory, Founder of Delamar Hotels
A Classic Getaway
Indulge in the epitome of luxury with Delamar Hotel's chauffeured classic car experiences, a peerless journey into sophistication and elegance. Elevate your stay by selecting from our exclusive fleet of vintage and modern collector cars from Delamar Hotels founder Charles Mallory's personal collection. Your voyage awaits where opulence meets history and every moment becomes a timeless memory.
1962 Imperial Crown Convertible
The 1962 Imperial Crown is a rare car and is one of only 554 examples ever built so may likely be the only one you will ever see. The Imperial Crown was the pinnacle of the American space-age engineering era and the car offers some very futuristic details for its time such as like a full power convertible top, a groovy square steering wheel and the infamous "gun sight" tail lights. The design details are many and it is fun to slowly discover see new and interesting features as you ride in the car. Long, low and comfortable with a huge convertible top, this is a see-and-be seen in machine!
Bentley Continental Flying Spur
Powerful, fast and elegant while somehow also being fairly understated, the Bentley is known to some as the sporting Rolls Royce. This automobile is equipped with the legendary 555-horsepower, twin turbo, W12 motor and boasts truly impressive performance. The opulent interior is entirely enveloped in rich leather, even the headliner which makes for a very quiet ride. The highly varnished burled walnut interior trim pieces are a highlight of British luxury car styling. The extraordinary quality control of Bentley is legendary. You will feel like royalty as you arrive to your destination and your chauffeur opens the doors for you.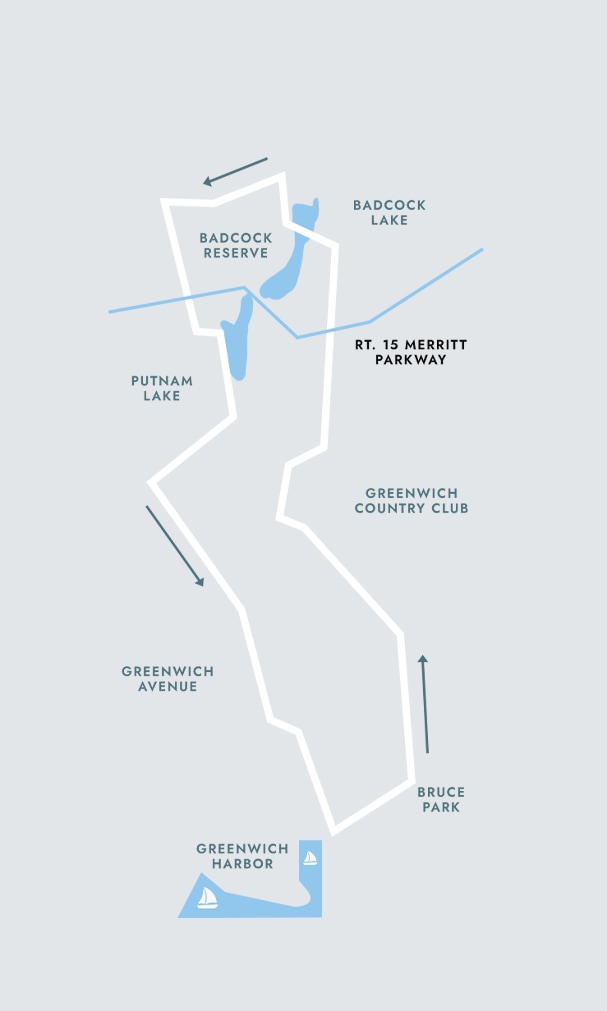 THE SCENIC DRIVE
First on your itinerary will be to catch a glimpse of Smith Cove as you head over and loop historic Bruce Park; established in 1908 it is the oldest park in town and features the Davis Mill Pond. This is a wonderful and peaceful place to pull over and jump out for a photograph. From there you will head up north to witness the grandeur of the vast estate section of town, the principal thrust of this real-estate tour. You might never suspect that you are only 30 miles from the hustle and bustle of Times Square as you head further north into the famed Greenwich "back-country." Enjoy some of the largest and most magnificent homes in all of New England and sense the cooler air as your cruise under the lush canopy of trees. You will traverse the 1-car-width bridge over Rockwood Lake, a rarity in the region and then pass alongside Putnam Lake.
As you head back south, you will remark at how you will pass from country to town in the span of 1 block. Your driver will then coast down the famed Greenwich Avenue lined with glitzy stores and even glitzier people before returning to the serene comfort of your quarters at Delamar Greenwich Harbor.   
GOURMET PICNIC EXPERIENCE
Our driver will take you on a scenic route around town and stop at a scenic spot for a picnic in collaboration with Mark & Graham that features products such as a premium picnic basket, variety of wine picnic tables to choose from and a waterproof blanket from their expertly crafted picnic collection. Select from our autumn inspired menu, curated by Executive Chef Frederic Kieffer. Unplug and rediscover the poetic simplicity of dining en plein air; a treat for all five senses.
Contact Us
$360 for one person, $450 for two people, $540 for 3 people
This experience is approximately 2 hours
Quintessential New England at its Finest
BACK COUNTRY
Let our chauffeur open the door for you and be seated in one of our extraordinary classic cars. At our Greenwich location you can choose from a marvelous 1962 Imperial Crown Convertible,
the epitome of far-out American 1960s space-age styling or the elegant 2006 Bentley Continental Flying Spur, so opulent that the interior is fully enveloped in 18 hides of Connally leather.
SOMETHING BORROWED
Elevate the charm and elegance of your special wedding day by choosing one of our remarkable classic cars for your grand entrance. At Delamar, we understand the importance of every detail when it comes to creating the perfect ambiance. That's why we offer a curated selection of timeless and impeccably maintained classic cars, designed to add a touch of sophistication and nostalgia to your wedding celebration.